Traditional and Comfort Bikes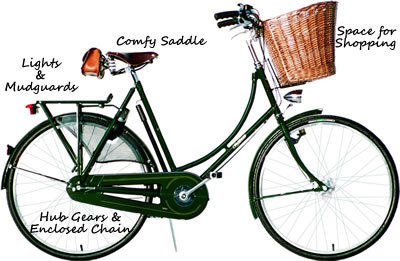 General Description...
City bikes are designed to be low-maintenance comfortable bikes for using every day. They have mudguards and lights already fitted, and racks and baskets to put a briefcase or shopping in. The riding position is very upright to make it easier to see where you are going - and easier to be seen. City bikes are built for comfort, not speed, so have a good padded or sprung saddle. The enclosed hub gears require very little maintenance, and the enclosed chain is protected from the road grit - and it is kept away from your trousers.

Pros...
For cycling every day with the minimum of fuss, traditional bikes are perfect. They are built to last with little or no maintenance, and come ready equipped with everything you need.

Cons...
Traditional bikes aren't sporty - you're not going to win any races on one. The upright riding position is not very good aerodynamically, and the strong frame and all the extras make these bikes quite heavy.

Expect to Pay...
Bikes start from around £160, but expect to pay more for a bike with all the trimmings!

Image Copyrights
Images depict bikes manufactured by
Pashley
.
Traditional and Comfort bikes are available from a number of other manufacturers and use of Pashley bicycle images is in no way an endorsement of their product for this purpose.
Permission for use of the images has been sought from
Pashley UK
and copyright over these images remains with the respective supplier.