Tandem Bikes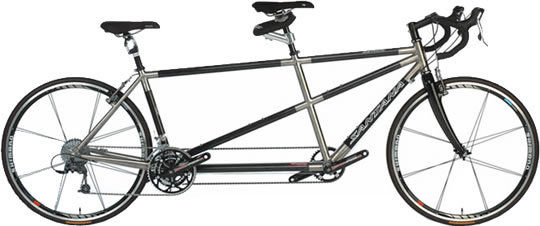 General Description...
Tandem cycling is a great way for two people of different abilities to cycle together. Tandems, like regular bikes come in a variety of forms to suit different types of cycling. The choice of wheel size helps determine what the tandem may be used for. These options include 26" wheels (mountain bikes) and 700C (touring/hybrid size). Combine the right wheel size with a good handlebar option; straights, drops or butterfly and your tandem can be the perfect machine for you and your cycling partner.

Tandems can be used for a variety of different types of cycling e.g. touring, road racing, mountain biking and most commonly leisure rides on quite country lanes and tracks.
Tandems do not differ a huge amount compared with bicycles in terms of equipment. The only parts that are tandem specific are the eccentric, cross-over chainset, stoker stem (rear handlebar holder) and some tandems have a longer axle on the rear to allow a drum brake to be fitted. The eccentric holds the bottom bracket at the front and allows the crossover chain to be tightened to allow for chain stretch.

So let's dispel any myths surrounding tandems and tandem cycling. For those of you that will be sat on the back don't think you have got an easy ride because you have to pedal too. It is fair to say that with twice the riders comes twice the power, on the flat and down hills.

Sometimes wider handlebars and a more upright position are desirable. Unlike a solo bike turning is affected more by steering than by leaning. Tandems do need good brakes and modern tandems have more sophisticated brake systems including V brakes and disc brakes. The gearing also needs to be wider than solo bikes to allow riders to select a lower gear to spin up hills.

Tandem riding is what you both make of it, for some it's a gentle ride around the country lanes with lunch at your favourite pub, for others, it is the inspiration to set off in search of adventure. People choose to ride tandems for many different reasons and the benefits of tandem riding are numerous, tandem riding is to experience the pleasure of cycling together irrespective of different fitness levels, it is romantic and fun.

Pros...
A great way to experience cycling as a couple.
Not much more to buy than the cost of 2 reasonable quality standard bikes.

Cons...
Not really suitable for a nip down to the shops on your own!

Expect to Pay...
For a decent quality aluminium tandem you will be looking to pay £800. At this price you could expect 24 speed gearing, alloy rims, aluminium frame and a good standard of components. The more you spend on tandems you can expect the standard of components to rise and the weight to reduce.
Tandems come in a range of sizes and it is crucial to get the size that is comfortable for both riders. Kiddie back tandems allow an adult to ride on the front with a child on the rear. The use of kiddie cranks also allows the tandem to be used from an earlier age.

Image Copyrights
Images depict bikes manufactured by
Santana
.
Tandem bikes are available from a number of other manufacturers and use of Santana Tandem bicycle images is in no way an endorsement of their product for this purpose.
Permission for use of the images has been sought from
Santana
via their UK agent (JD Cycles) and copyright over these images remains with the respective supplier.