City Comfort Bikes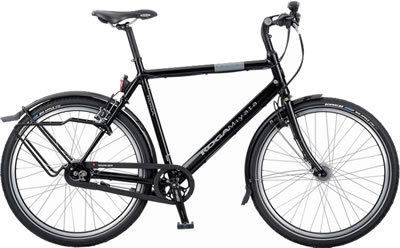 General Description...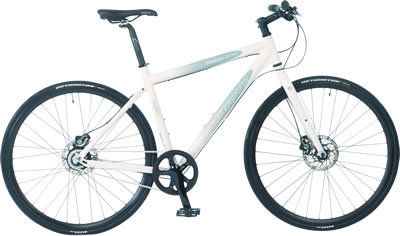 Mountain Bikes have long since been used by people about towns and cities. They are rugged and reliable, can take a few knocks and are not altogether unsuited to nipping in and out of traffic on urban streets.

But lets face it, knobbly tyres are no help on Knightsbridge, and there are no 1:2 decents in Dorking... so mountain bikes with ultra low gears are a bit overkill on the streets of our towns and cities.

Early responses to this rugged on-road need were met by simply putting a set of slick tyres onto a mountain bike and hey presto, the urban city comfort mountain bike was born.

Manufacturers have caught on to this need and are now producing some truly excellent steeds. They've looked at what riders do round town and delivered the ready modified package. Some equip the bikes with racks and guards. Others ditch the multi geared derailleur setups in favour of internal hub gears with lower servicing demands. Disc brakes, drum brakes... there's no true distinct formula EXCEPT that these bikes will look quite chunky but in a sleek, fast kind of way.

Pros...
If you want to commute, particularly in busy traffic, these bikes offer a great deal of agility whilst retaining the ruggedness we often need on Britains wonderfully maintained road network.
Slick tyres make these bikes very fast on tarmac,and well made paths should also be no problem.
Cons...
Not suited to off-road riding except well made paths.
Expect to Pay...
Entry level bikes start at about £250-£300 with good quality ones from about £500.
Image Copyrights
Images depict bikes manufactured by
Koga Miyata
and
Giant
.
City Comfort bikes are available from a number of other manufacturers and use of Koga and Giant bicycle images is in no way an endorsement of their products for this purpose.
Permission for use of the images has been sought from
Koga UK
(AMBA Marketing) and
Giant UK
and copyright over these images remains with the respective supplier.