City Bikes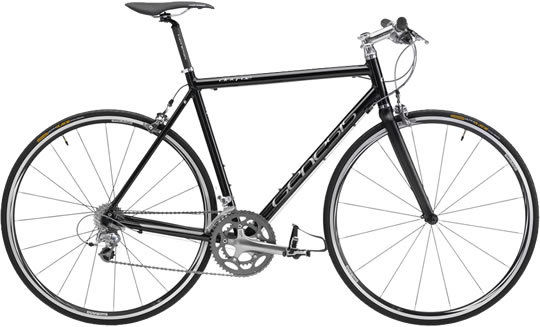 General Description...
A relatively new development although an old idea. The basic ingredients for this style are; frame similar to a racing bike, plenty of gears but not the ultra low gears found on Hybrids and mountain bikes, straight bars like hybrids/mtbs to give the comfortable more upright position, slim fast tarmac tyres. You could think of this as a hybrid, but it is designed to go much faster since it is designed purely for tarmac. It is ideally suited to commuting as long as you don't have masses of gear to carry.
Pros...
Extremely fast and agile. Ideal for tarmac riding. Wider range of gears than a traditional racing bike. More comfortable riding position than a racing bike. Faster on tarmac than virtually all bar a racing bike, hey this is a racing bike, but with loads of gears and straight bars!
Cons...
Unsuitable for non-smooth (tarmac or concrete) surfaces. Narrow tyres can make the ride a little harsh although wider tyres can be fitted.
Expect to Pay...
Off the peg models (there aren't many available yet although more manufacturers are catching on) start from about £300 and range currently up to about £1000. You can relatively easily convert an existing road race bike into this style.
Image Copyrights
Images depict bikes manufactured by
Genesis
.
City Racing bikes are available from a number of other manufacturers and use of Genesis bicycle images is in no way an endorsement of their product for this purpose.
Permission for use of the images has been sought from
Genesis
(Madison) and copyright over these images remains with the respective supplier.