Cycling with Children... Tag-a-Longs / Trailer Bikes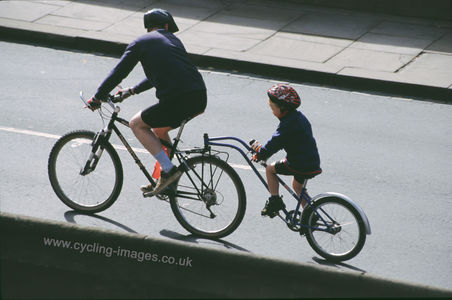 General Description...
A "Tag-A-Long" or Trailer Bike attaches generally to the seat pillar of an adult bike such that an older child (4 to 9 years) can be towed. The trailer bike consists of what is effectively the rear portion of a normal Childs cycle but without a front wheel or any steering mechanism. The child may pedal or freewheel independently of the towing adult. The trailer bike hinges at the fixing position so as not to impede the normal handling of the adult bike.

Better models may feature brakes or gears for the child.

Some models feature folding mechanisms to allow the trailer bike to be folded for storage and transportation purposes.

Tandem versions are often available which enable 2 children to be towed.

Pros...
Allows older children to be towed on longer journeys.
Aids child fitness levels (assuming they pedal!)
Child can pedal as much or as little as they like.

Cons...
Child cannot be allowed to ride any of the journey independently.
Generally only available with a 20" diameter rear wheel.
Cannot be used at the same time as a rear mounted baby seat.

Expect to Pay...
Basic models start from about £80 - £90. Fully featured models may be up to around £300
Image Copyrights
The image depicting a trailer bike on this page is owned by Jason Patient of
Jason Patient cycling-images.co.uk
.
Permission for use of this image has been sought and received from
Jason Patient
and copyright over this image remains with him.