Roof Mounted Cycle Carriers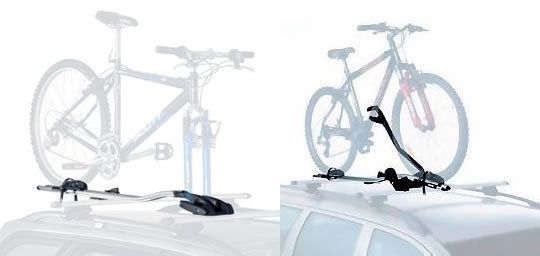 General Description...
Carrying bikes on the roof of a vehicle is nothing new. Roof mounted cycle carriers have been around for ages.
Up until about 2000, there was an option of 3 different types of carrier:
Upright...
...has the bike wheels sat into a gutter type runner, with a clamp which grips the bike around its downtube to hold it in place. The wheels are then strapped down onto the runner.
Very simple to use.
Fork clamped...
...has the bike with its front wheel removed and its forks clamped securely down, the back wheel sat into a runner and strapped down. The front wheel is then carried either in the vehicle boot or on an extra (optional) carrier which also mounts to the roofbar.
This is slightly more solid and stable, with a lower wind resistance but requires the removal of the front wheel every time the bike is transported.
Inverted...
...has the bike upside down, its saddle inserted into a holder and the bike clamped by its handlebars. This type of rack appears to now be obsolete.
Pros...
Almost any vehicle can have roof mounted carriers as long as the vehicle can have roof bars fitted.
Very simple to use.
Cost incurred is per bike, so if you only need to carry one bike, you only buy one rack.
4 bikes easily carried and on some estate cars, it is entirely possible to carry 6 bikes.
Typically a higher combined weight capacity than boot mounted cycle carriers.
Cons...
Requires a set of roofbars
Extra height to the vehicle: beware of low garage doors and bridges!
Increased fuel costs as roof mounted carriers dramatically increase wind drag.
You need to be pretty strong to get the bikes up onto the roof in the first place. Heavy bikes may cause big problems.
Weight limits for your roofbar setup MUST be adhered to.
More than one bike on the roof is likely to prevent the carrying of a roofbox or similar.
Expect to Pay...
Assuming you already have appropriate roofbars, carriers start from about £20 PER BIKE with high quality racks costing up to £60-£80 per rack. Remember, the cost is PER BIKE.
Image Copyrights
Images depict products manufactured by
Thule
.
Car roofbar mounted cycle carriers are available from a number of other manufacturers and use of Thule images is in no way an endorsement of their products for this purpose.
Permission for use of the images has been sought from
Thule UK
via Madison and copyright over these images remains with the respective supplier.